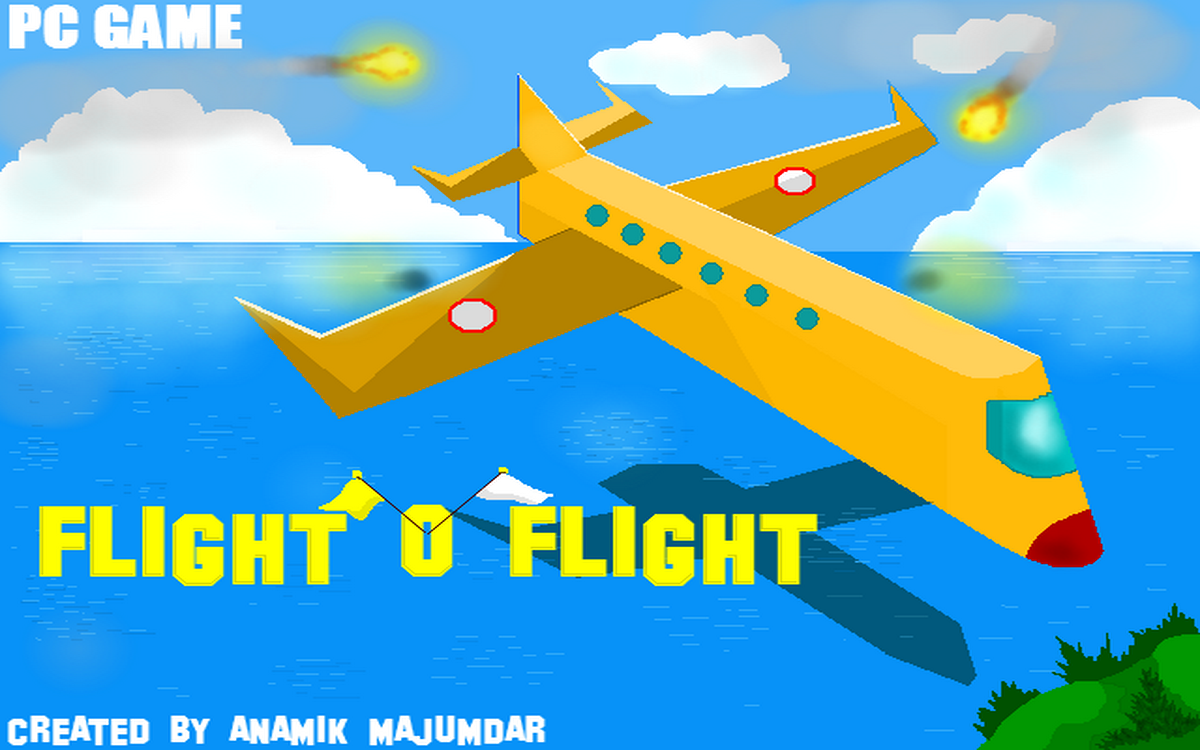 Flight O flight[V4.0]
A downloadable game for Windows
Flight O Flight is a 2D scrolling shooter game which is based on the warfare between G.M.W gang and HAWK army forces.

In 1990, the air forces of G.M.W. gang arrived in some countries to seize the most popular cities. As per the official report, they plotted an ideal plan of murdering the people by utilizing their air forces. With an aim of ceasing and arresting the convicts, the Commander of H.A.W.K. Army sent special fighter plane to protect the countries and islands from destruction.
There is no doubt that the enemies want to seize some islands to build their own secret base. In order to stop all these activities, G.M.W fighter planes must be destroyed at any cost, otherwise the situation will be beyond our CONTROL!
---

KEY FEATURES:
Destroy as many planes as you can!
Destroy the ground units!

Continuous game play!

Unlimited number of bullets to fire!
Three different firing modes!

A wide range of enemy planes having different firing modes!
5 Lives to play with!
Gain Lives while you shoot!
Fighter Planes of different colors including yellow, blue, red, green and More!
Stop the enemies to conquer islands!
Beware of Ground units!

Attain highest possible score!
Shoot'em up type!
Gain health balloons to increase your health for making a way of surviving longer!
The battle gets harder as you proceed!
Challenging gameplay!
All future updates for free!
Score Lists:
1. Green Plane : 5+ points!
2. Violet Plane: 35+ points!
3. Red Plane: 10+ points!
4. Orange Plane: 15+ points!
5. White Plane: 20+ points!
6. Yellow Plane: 25+ points!
7. Blue Plane: 35+ points!
8. Violet Planes passing by the player: 50+ points!
9. Ground Units: 60+ points!

By destroying the violet planes and ground units, you will obtain the highest points!
---
NOTE: This game is absolutely DRM Free.
---
Minimum system requirements:
RAM: 1GB(RECOMMENDED)
Compatibility: PC(Windows)
Game Version: 4.0(Latest Version)
---
Contact Me:
You can send me feedback via Email . If you have any queries regarding this game, don't hesitate to contact me. I will reply as soon as possible.
Contact Me: http://www.amaxang-games.com/p/blog-page.html

Twitter: https://twitter.com/AmaxangGames
My Website: http://www.amaxang-games.com/p/main.html
---
=Credits=
Anamik Majumdar
Creator/ Director/Designer/Artist/Programmer/Audio Director.
---
Final Words: Thank you for viewing this game. In order to download click on download button given below.

Your support and encouragement is deeply appreciated.
Download
Click download now to get access to the following files:
Flight_O_Flight_V4.0.zip
6 MB